20 Easy Easter Marketing Ideas to Get a Basketful of Customers
You guessed it—it's time to hop on the bunny trail and start thinking about your Easter marketing and promotions. While not all of your customers may celebrate Easter (although 80% of Americans celebrated Easter last year), most people will welcome any additional opportunity for some savings, promotions, and fun.
Written by Stephanie Heitman. Stephanie is the Senior Managing Editor for LocaliQ.
To help you reach this audience, we're sharing a basketful of Easter marketing ideas any business can try.
Table of contents

Skip to the section you're most interested in, or keep scrolling to collect them all!
Easy Easter marketing ideas
Try these simple Easter marketing ideas to build and engage your audience leading up to this holiday.
1. Host an Easter egg hunt
Easter egg hunts are probably the most fun and recognizable Easter tradition, so it makes sense that hosting an egg hunt is our #1 Easter marketing idea.
You can go the traditional route and host an Easter egg hunt for kids in your area, or you can even put your own spin on it by hosting an adults-only Easter egg hunt if you cater to a younger crowd.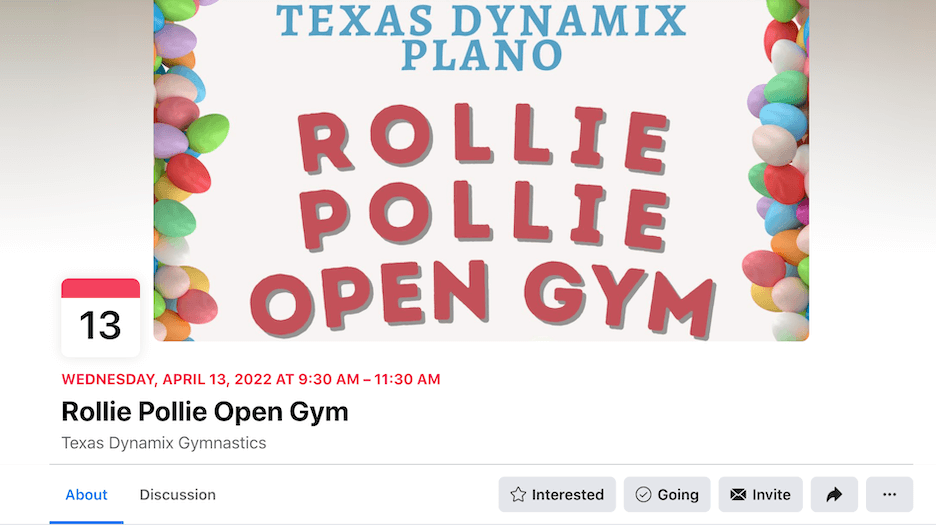 This kids' gym is hosting an Easter egg hunt to attract more families to its location.
Make sure to fill your eggs with something exciting like candy, money, or other special prizes, and consider hosting it in the days leading up to Easter so you're not competing with egg hunts hosted by local churches or organizations.
2. Or try a virtual egg hunt
If you don't have the time, space, or resources to host an Easter egg hunt at your business, you can try a virtual egg hunt.
Gamified promotions leave mostly positive impressions—they're interactive, engaging, and most importantly fun. Some interactive Easter egg hunt applications allow you to fully customize your digital Easter egg hunt so that you can expose users to your corporate image and reinforce brand recall, while they're having fun.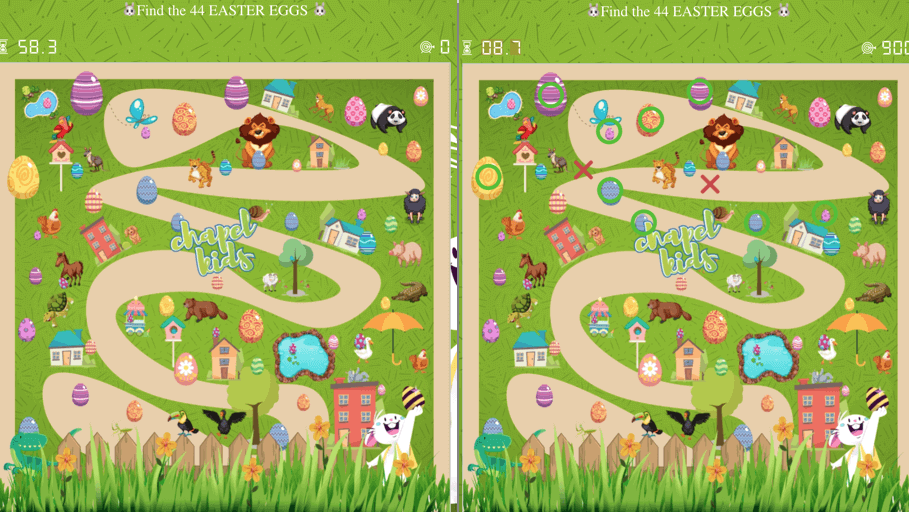 You can also try this without software by posting pictures to your social media pages, hiding Easter eggs around (or outside of) your business, or asking your audience to guess how many Easter eggs are in your basket.
Bear in mind that the incentive is the best motivation to participate in your Easter (or any other) campaign. Encourage users to interact with your brand by raffling your best-sellers, offering product bundles, or distributing discounts to all users that share their contact details. In other words, the better the prize the more leads for your database.
3. Update your Easter hours
This isn't the most exciting Easter marketing idea, but it is important! If your business has different hours for Easter or if you're closed in observance of the holiday, make sure to update your business hours on your local listings sites, your website, and your social media sites. This keeps people from trying to visit or get in touch with your business when you aren't there to help them, which helps present a positive customer experience.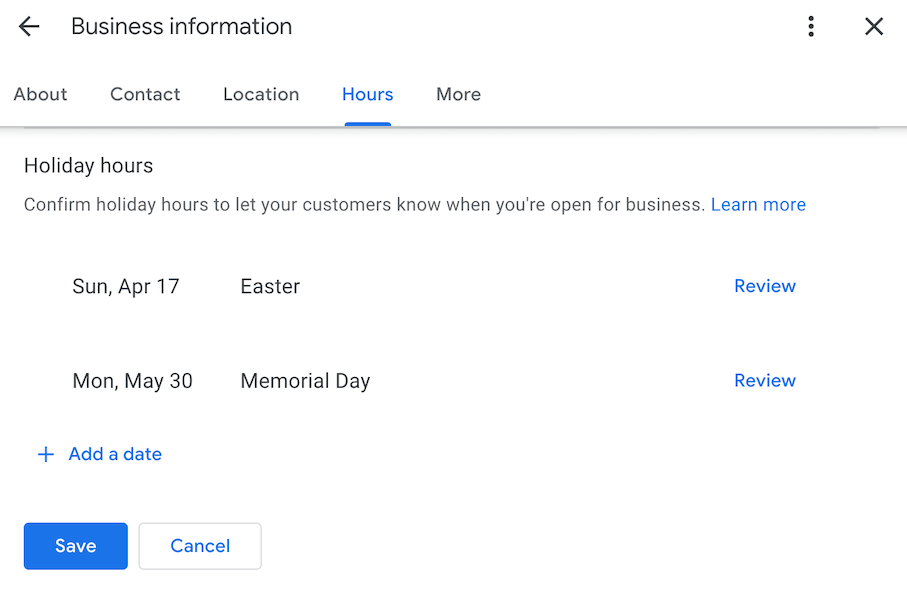 To update your Easter hours for your Google Business Profile, navigate to your profile either through Google Search or through the Google Business dashboard, click Edit Profile > Hours, then scroll to Holiday Hours and review. Save once complete!
4. Decorate your business for Easter
One way to get more eyes on your business is to decorate it for Easter. This can include some window decals or art, a cute Easter window display, and adding some seasonally-themed decorations inside your business.
This creates a fun atmosphere as shoppers stop by and can even entice passersby to walk into your business.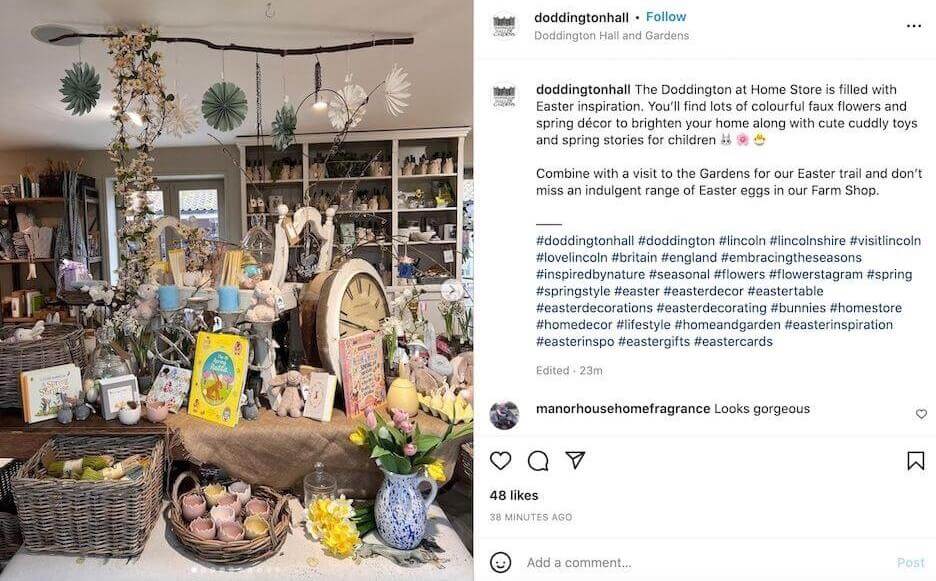 5. Sponsor an Easter event
Find out what Easter events are happening in your area and see if your business could sponsor it in some way—either by hosting a booth at the event, providing goods or services, or paying a small fee to become an official sponsor. This community involvement can build goodwill with potential customers while getting your business out in front of local customers.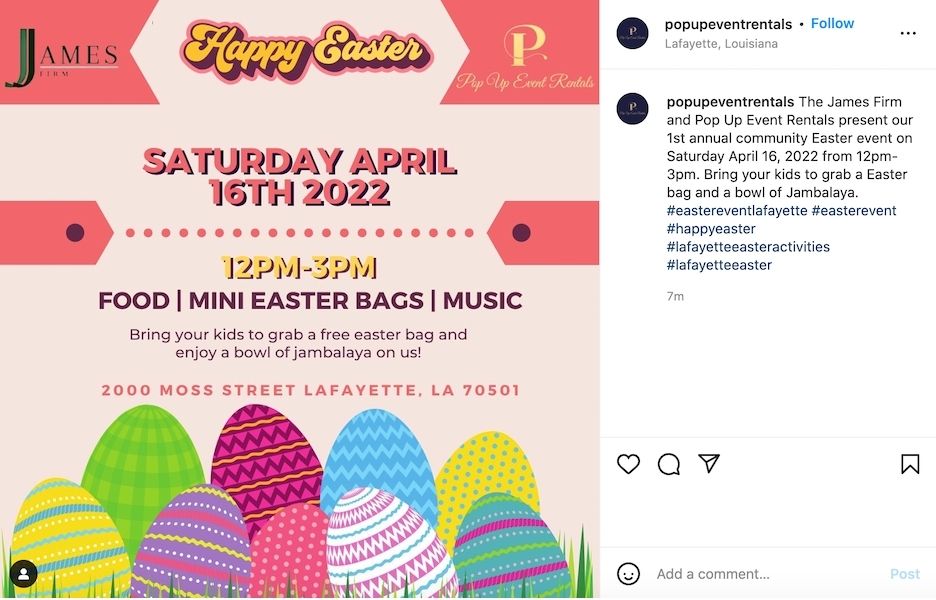 6. Partner with a local influencer
Influencer marketing is a great way to reach a new audience. Find a local influencer whose audience aligns with your potential customers and see if there are opportunities to partner. Most micro-influencers will require a small fee in exchange for a social media post, so find out what their rate is and what deliverables your partnership will entail.
You could have a local influencer highlight your business's products or services while calling out your seasonal specials or sales, or you could have them post about your upcoming event. Think about what makes the most sense for your business and for your Easter marketing.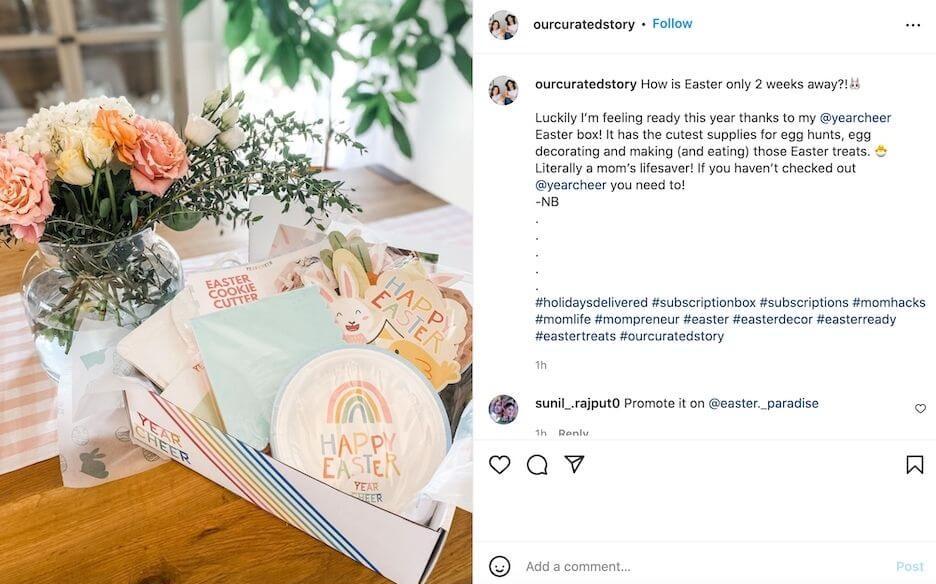 7. Create an Easter-related video
As video, especially short-form videos like TikToks and YouTube Shorts, continue to grow in popularity, any holiday is a great excuse to get in on the action.
As part of your Easter marketing this year, try making a video to share across your social sites as well as on your YouTube channel and your website. Your video can promote any seasonal specials or deals you're running, showcase your employees hiding Easter eggs throughout your location, or just feature you sharing Easter-related tips or ideas.
Your video doesn't have to be long or super-polished–just use it as a way to showcase your brand personality and connect with your audience in a new and fresh way. Get some YouTube video ideas to inspire you here!


Easter promotion ideas
Easter is also a great time to try out some new promotions. Here are some ideas to keep in mind.
8. Host an Easter sale
The most obvious Easter promotion idea is to have an Easter sale. Everyone loves a good discount, so this idea is sure to be a hit.
Decide what discount will be most enticing for your customers—a certain percentage off, buy-one-get-one, or special discounts on specific items.
Limited-time offers or sales, such as for Easter, are always a hit–plus, they inspire quick action that can help you close new customers quicker.
9. Hide eggs with special deals
Another fun Easter promotion idea is to hide eggs throughout your business with special deals and coupons inside. Someone could even find a golden egg that will have the best discount or prize—such as a gift card or a free product or service. This will bring people to your business and add a little fun to your day.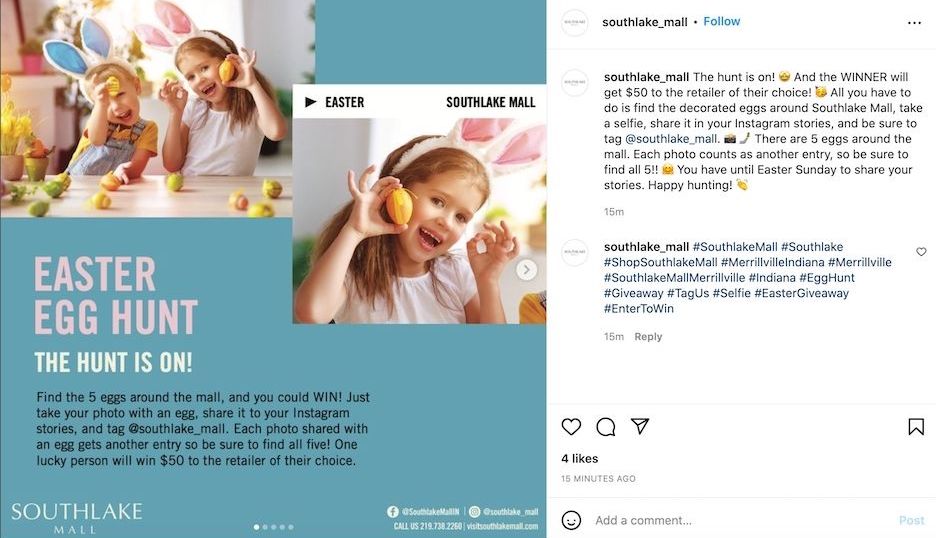 10. Have Easter treats in store
Another way to bring people into your location and enhance the shopping experience is to set up a little treats station with Easter-themed cookies or cupcakes, plates, and cups so shoppers and people passing by can enjoy a snack. Never underestimate the power of free food!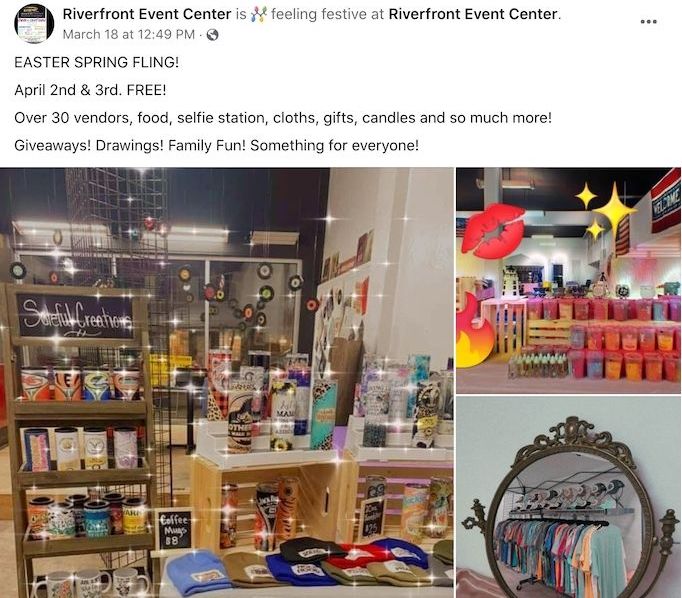 11. Create and share Easter-inspired items or flavors
Speaking of food, if your business is food-related, consider releasing limited-edition Easter flavors. Your restaurant could add carrot cake to the menu, or you could create a special entrée in honor of Easter.
Other businesses can get in on this too by offering limited-edition Easter items, such as bunny-shaped soaps or Easter gift baskets.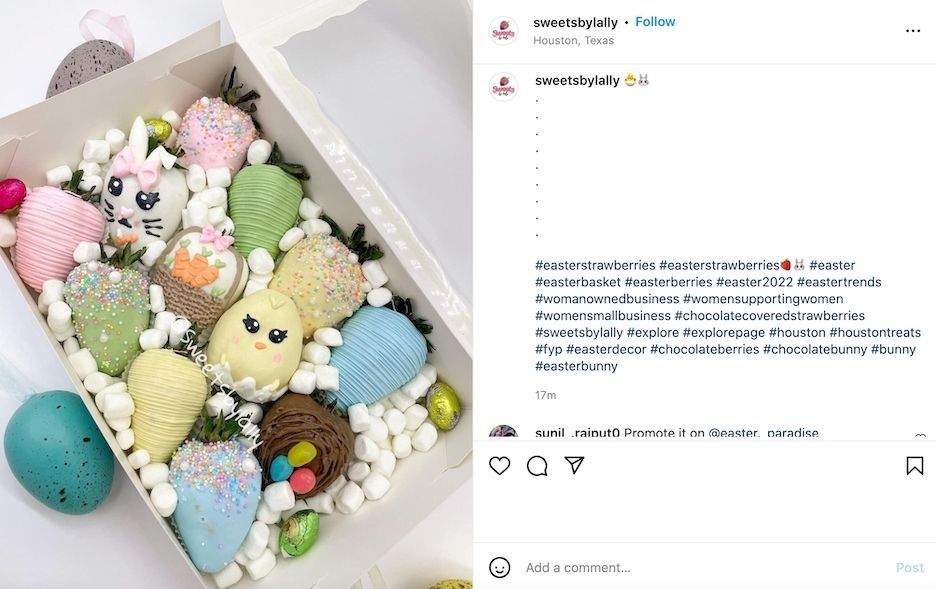 Easter posts for social media
Looking for what to post on social media on Easter? Here are some tips and ideas.
12. Run an Easter social media contest or giveaway
A Facebook contest or Instagram giveaway is a great way to engage your audience on social media and get new followers. Host an Easter-themed social media contest by having people follow your business, like a specific post, and tag people for their entry.
Make sure to outline the contest prize, when and how you'll announce the winner, and any other terms.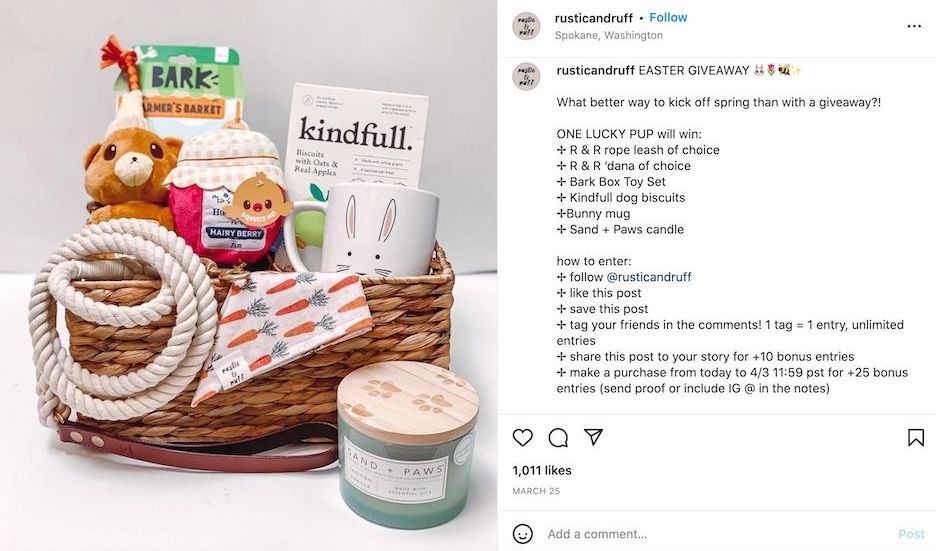 13. Share user-generated content
Another way to engage your audience with your Easter marketing is to share user-generated content. If someone tags your business in a post, reach out to ask if you can reshare their post. Or, you can incorporate user-generated content into your Easter social media contest by having people enter by tagging your business in a photo that you can then share. (Find out how to reshare Instagram posts here!)
14. Post about local Easter events
Whether you're hosting a local egg hunt or you want to help others get in on the fun, you can use your social media pages to highlight local Easter events. This shows your involvement in the community and can position your business as a local resource.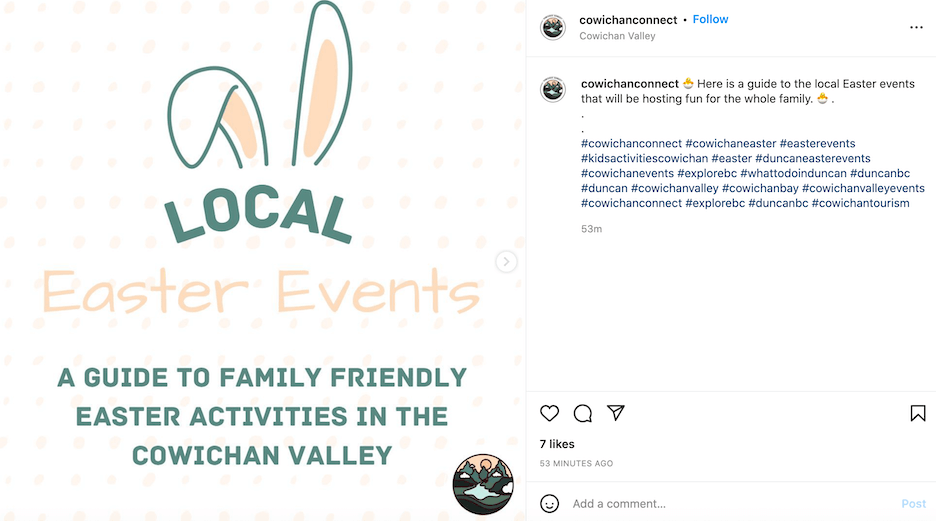 15. Promote your Easter promotions or sales
If you're having an Easter sale or running any Easter promotions, make sure to spread the word on social media. Feature your sale items on your feed or show off your promotion with an Instagram Reel.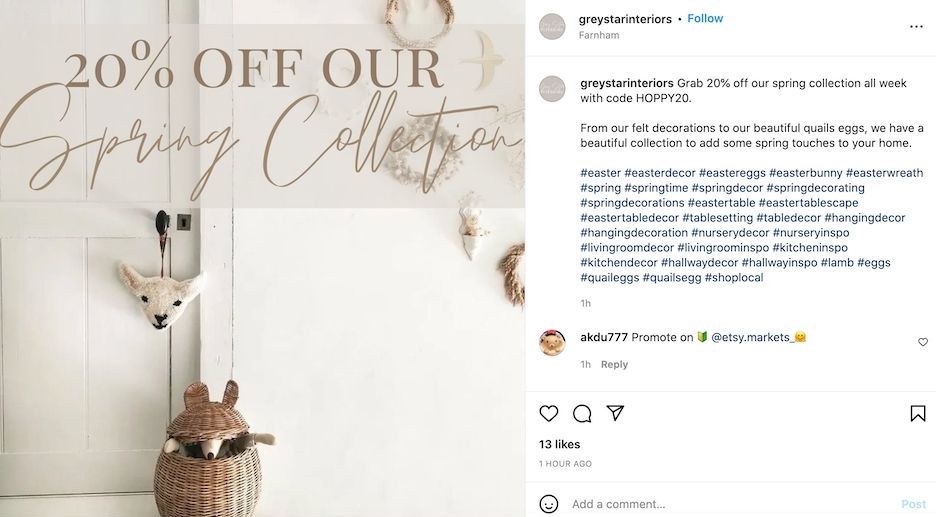 Make your social media promotion posts even catchier with these Easter marketing slogans!
16. Share a religious-themed post
Easter is a religious holiday, so if it aligns with your brand to post something related to Easter in that way, you can feel free to do so. Simple Bible verses, or posts with "He is risen!" are popular Easter posts for social media.
Related: Get more April social media post ideas you can use here.
Easter email marketing ideas
Email marketing is a great way to get in front of your customers at any time of the year—and Easter is no different!
Here are some Easter email marketing ideas to try:
17. Email special subscriber discounts for Easter
One way to make your email subscribers feel special is to share special discounts just for them for Easter. These exclusive discounts make those on your email list feel like they get top priority, and it can entice others to sign up for your emails so you can grow your email list.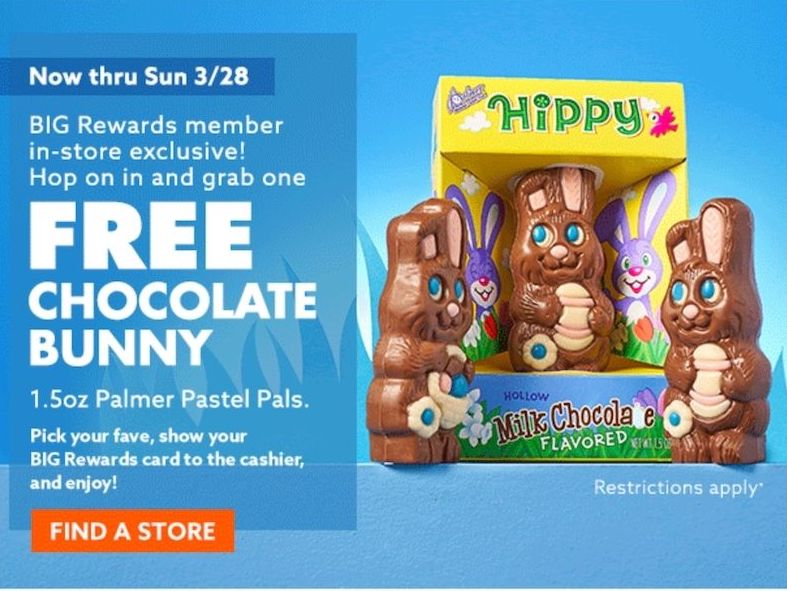 18. Share a roundup of local Easter events
Another Easter email marketing idea is to find out what local events are happening around Easter and compile them into a helpful email. These can include egg hunts, restaurants hosting special Easter brunches, and more.
You can even reach out to other local businesses and ask if they have any events that they'd like highlighted. This can open the door for them to return the favor in the future!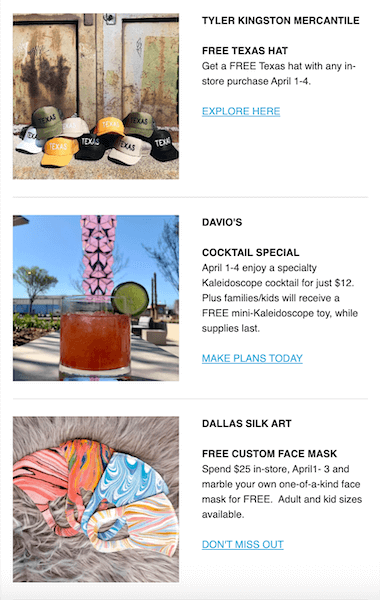 19. Highlight your Easter sales and promotions
Email marketing is still one of the best ways to let customers know about your sales and promotions. Customers specifically check their emails looking for deals, so make sure they see your Easter promotions by sending them out via email.
Related: Steal these email subject lines for sales to get the word out about your promotions.
20. Create a seasonal email newsletter
If your business already has a monthly or weekly newsletter, you can create an Easter-themed send. For some businesses, it might make sense to create and share educational or helpful content related to the holiday as part of your Easter email marketing.
For example, a clothing boutique could share its top picks for Easter dresses, or a restaurant could share Easter brunch recipes to try.
This kitchenware company shared an Easter recipe: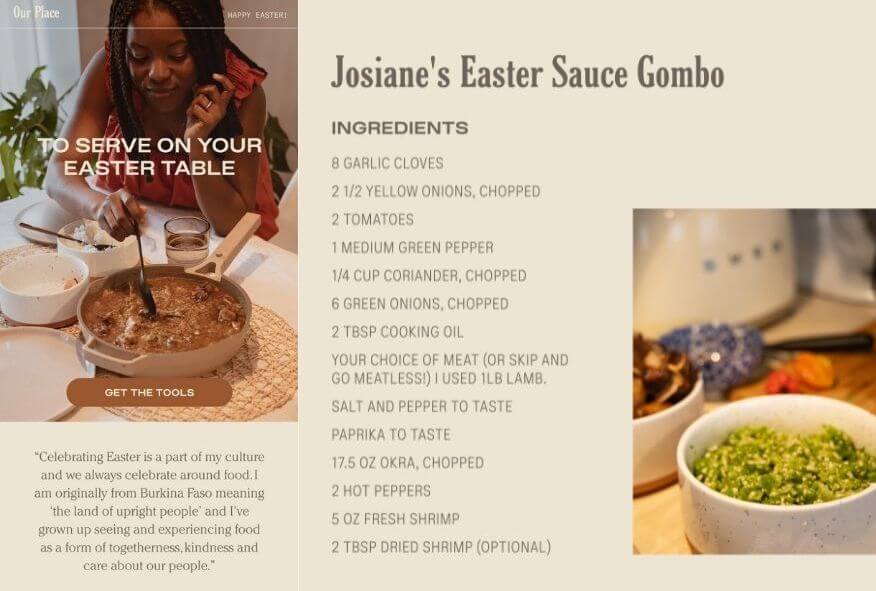 If you don't have any Easter-related content, you could make your newsletter look more seasonal through your email design by adding some bunnies or eggs.
Related: Get April email subject lines to use all month here.
Get business hoppin' with Easter marketing and promotion ideas
Easter only comes around once a year, but you can adjust many of these marketing ideas to other holidays in the coming months. Test out a few new ideas to see what works, what resonates with your audience, and what you might tweak and try again later.
Here are those 20 Easter marketing and promotion ideas to try:
Host an Easter egg hunt
Or try a virtual egg hunt
Update your Easter hours
Decorate your business for Easter
Sponsor an Easter event
Partner with a local influencer
Create an Easter-related video
Host an Easter sale
Hide eggs with special deals
Have Easter treats in store
Create and share Easter-inspired flavors or items
Run an Easter social media contest or giveaway
Share user-generated content on social
Post about local Easter egg hunts
Post about your Easter sales
Share a religious-themed social post
Email special subscriber discounts for Easter
Email a roundup of local Easter events
Feature your Easter sales in an email
Create a seasonal email newsletter